Tips To Follow For Replacing Kitchen Countertops On A Budget
In your kitchen, countertops are a noticeable addition. Whether you prefer natural stone countertops, solid surfaces, or any other material, these surfaces define the home's statement. However, there are many things to consider before you go with replacing old-school countertops with something stylish and economical.
Here are some tips to follow for replacing kitchen countertops on a budget that can be suitable for convenience and choices.
Consider material options
It's always better to look for different material options and find alternatives for replacement. And, while working with kitchen countertops, it's not that hard if we are aware of the suitable materials like marble, ceramic tiles, granite, quartz, limestone, or solid surface countertops. All these material options are durable, budget-friendly, and convenient with their characteristics to use for your DIY idea or economic change.
Search for remnants
Ever heard of remnants! If not, consider using them right away as they can save much money, and the beauty is outstanding while easier to find. For better guidance, you can ask and know the best deals for some of the recommended remnants like quartz, granite, and marble for kitchen countertops.
Easy Laminate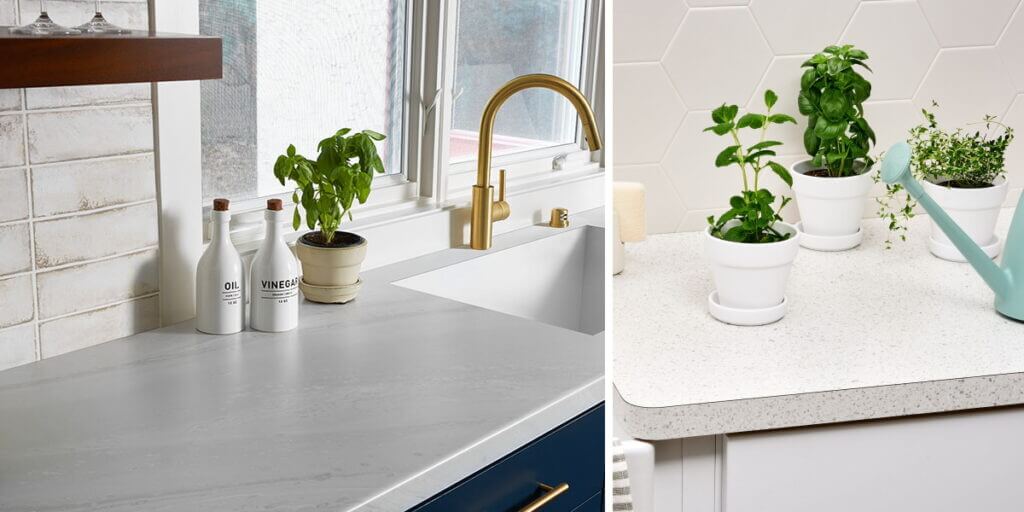 Laminating countertops have been around for a long time. It is one of the go-to countertop materials for people preferring small budgets. Laminate countertops give a good look at a small cost, and they are easy to install even with basic construction skills. Butcher-block kitchen countertops are one such option to choose for getting that beautiful cottage feel within the home.
Granite countertops
For various homeowners, granite is one of the popular choices available in multiple colors and styles. Besides this, it is pretty durable, low in maintenance, and a budget-friendly option when thinking of replacing kitchen countertops. The best part is, granite countertops are heat, stain, and scratch-resistant if you apply sealant annually for protection. But, before buying granite countertops, make sure to do the research and go for obvious evergreen colors such as white and green.
DIY wood countertops or painting
The best way to replace the kitchen countertops is to use the DIY method of painting them. To begin with, cleaning the countertops and sandpaper to scuff the surfaces will make it easy for the primer and paint to adhere.
Also, suppose countertops are extremely out of shape. In that case, it's better to consider covering them with different materials like wood veneer. This will give a rustic feeling while providing it a minimal look.
Other reliable options
Apart from all the options stated above, there are other materials, too, like fabric, metal, and solid surfaces, that are some of the budgeted and top choices for replacing kitchen countertops by adding a new touch along with perfection. Also, going up with cultured granite, cultured marble, and limestone are exclusive options that go well in the budget kitchen countertops for tremendous elegance.
For knowing more about the better options in countertop materials, it's always recommended to have vendor advice and go with the suitable category that can blend well with the choice, daily maintenance preference, and cost.
Fortuna Marmo Granite providing Finished Countertops, Kitchentops & Iselands with customized Size. Our Edges Profile includes, Double Chamfer, Double Bullnose, Double Full Bullnose, Half Bullnose Chamfer, Chamfer, Single Bullnose and Quarter Round Cutting Edge Countertops. And these are available in High Quality & Smooth Finish.