Most Popular Indian Granite In European Countries
Granite is one of the ancient and renowned building materials with a classy appearance, long-lasting durability, and easy maintenance. India is highly rich with top-class granite quality with multiple colors and options. It is why Indian granite is a preferable option for outdoor and indoor construction projects in most European countries.
Granite is a highly suitable option for building luxurious, classy office spaces and homes. Further in this article, we will discuss some top-rated and preferable Indian granite used in European countries. Let us start:
Absolute Black Granite: 
It is the most popular and one of the classiest options in a wide range of Indian granites. This color and granite quality are considered highly reliable among all the available options. It is a solid stone with jet black color representing no color variation until decades. 
It is highly preferred for building bathroom flooring, kitchen slabs, countertops, memorial tile flooring, etc. The absolute black granite has high demand in European countries, South Korea, Germany, etc. The core origination of this granite is from Andhra Pradesh Khammam district.
New Imperial Red Granite: 
New Imperial red granite is one of the safe options in the granite segment, with an attractive appearance and low maintenance. It is available in bright red color with an exuberant aesthetic pattern and bright appearance. It comprises sparkling specs in beautiful blue, black, white, and golden colors.
The flooring provides a royal look because of its pinkish background with an attractive elongated cluster. It is one of the best kitchen and bathroom flooring choices, along with outdoor flooring patterns. It emerges in core areas of Rajasthan and Madhya Pradesh. Along with high demand in European countries, it is exported in bulk quantity to Germany, Poland, and the USA.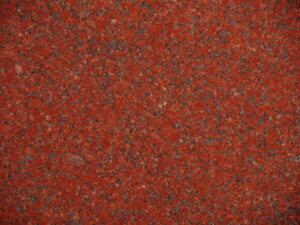 Tan Brown Granite: 
The tan brown granite is superior for massive housing construction projects and commercial buildings. The major reason behind this is its compatible appearance with wooden furniture and high-class durability, which makes it suitable for flooring and countertops. This granite option has negligible water-absorbent attributes, making it compatible with surface cladding.
These are highly affordable and require easy maintenance. These are available in dual-tone hues of brown and black color with an attractive appearance of white and grey color. It originated from Karimnagar, Andhra Pradesh, and is the highest exported granite to European countries.
Black Galaxy Granite: 
Black Galaxy Granite is the most modern option in the range of granite, with an alluring appearance in the affordable range. It appears like the collective bronze deposits with brightening flecks of copper, silver, and gold color mixture. 
It provides a classy matte look on flooring, countertops, staircases, etc. This mixture provides a radiant diamond appearance with direct exposure to white light. It originated from Chimmakurti, Chennai, and is exported in high quantities in China, Australia, the USA, and European countries.
Conclusion: 
These are some prominent Indian granite options highly preferred in European countries. All the listed granites are high-quality and compatible with domestic and commercial use. With growing technologies, Indian granite suppliers have derived modern techniques to enhance the quality and appearance of granite with multiple colors, which is highly attractive and unique. So, try one of these to elevate your place's beauty.