Why Italian Marble Are Better Than Others?
Marbles are never affected by changing fashion; they are the expression of authenticity and are also known for their purity and durability. They are originally limestone (sedimentary rock) which encounter with high temperature and great pressure to create large crystals forms which bind together to create marble (metamorphic rock).
Left behind are huge sections of marbles with various color veins running through them, these streaks varies according to the amount of mineral is present and gives an absolute exclusive look.
Marbles are extract in many countries but the most prime and luxurious marbles which are used by many famous artists and designers comes from the Italy. Italy is popular for its marble, especially from Carrara region. Italian marbles are well known from decades, they are steeped in heritage for their exemplary work of art.
They are considered testimony for their longevity and footed strong for centuries. Because of Italian workers and cutters who are eminent in quarrying marbles makes Italian marbles are exclusive in the world.
The quality of marbles is terrific and symbolizes the significance of opulence, elegance and sophistication, equally seen as a symbol of status in affluent society. These are a perfect choice for any room of our house, internally and externally, such as kitchen, bathrooms and hallways.
Due to heat and pressure through which they are gone, makes them hard-wearing but that doesn't mean they are indestructible, just demands little knowledge of what can damage it.
Marbles come in various sizes, shapes and colors besides, they are very cheap and astonishing compared to other factory-made materials such as vitrified porcelain tiles. Marbles are used for splash backs, kitchen tops etc. and rarely used externally due to pollution. Italian marbles are very soft, a thin nylon net is stick on the back of the slab to add strength and support to it. Moreover, hard stone is epoxy on the edge of the Italian marble to protect the sides of Italian marble, so, that doesn't disintegrate during transportation.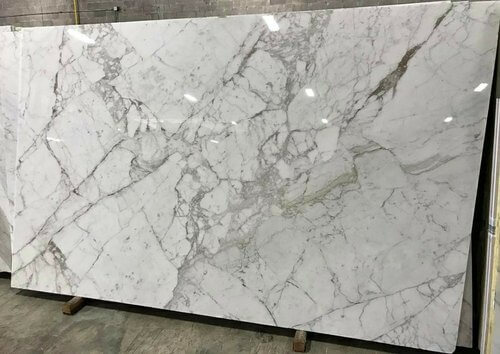 It is white or blue-grey marble excavated in the city of Carrara, Italy. It gives exquisite, linear, and silky look and has subdued appearance. It is quarried in abundance which makes it cheapest.
It is a peculiar marble of white and gold, available in both honed and polished finishes. It is used for kitchen tops, floors, and shower surroundings to create remarkable presence of natural stone. They are distinguish from pure white to milky white background with notable veins of colors.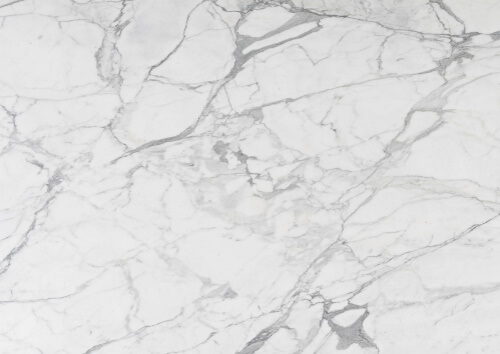 It is the most expensive stone because of its low- availability. It comes in various grey and gold veins and create catchy bold pattern. It also a supreme material for residential and commercial buildings. It becomes center of attraction wherever we exert it.
It has a natural color with unique brown veins and considered as one of the admirable and luxurious marble. It is finest for outdoor flooring and wall cladding which adds shine to a place.
It comes from northern side of Italy and it is limestone rock. It is light orange red to dark red.
It is a textured creamy stone with delicate veins of color which have tones of yellow, white and gold.
It is Italian term for 'pearl of Sicily' which has light brown color base with tones of various brown.
It has a rich black marble with different white veining pattern suitable to both traditional and contemporary design projects.
Italian marbles are prone to scratches and stains, we should never drag heavy materials on marbles because that will create needlelike scratches in long term.
They should be sealed with permeate sealers which will create blockade to prevent stains and give time to clean any spillage of acidic substance such as lime, tomato etc. which can leave permanent marks. It should be washed with mild detergent formulas.
In every few years, marbles should be re-polished to maintain their shine and glimmer.
And, if you want to go for a variety of India's finest marble, then you can select White Makrana Marble from the small town of Makrana in Rajasthan. This marble variant includes Dungri marble, Kumari marble, Alberta marble, brown Alberta marble, and Makrana pink marble.
Mostly, the iconic spots, Jain temples, are built from marble. Also, it is cheaper and economical when directly purchased in large quantities from the homeland, Rajasthan. If you consider any marble mentioned here, drop your query to know the suitable one with the best prices for any construction.