Everything You Need to Know About Bullnose Edges for Granite Countertops
At the time of selecting a Granite, we know that choosing the right edge profile for your granite countertop is an important decision. The edge profile can enhance the beauty of your countertop, add character to your kitchen, and increase the value of your home. In this article, we will also direct you about bullnose edges for granite countertops and assist you with picking the best one that suits your necessities.
Straight Edge Profile
The straight edge profile is a simple and clean edge that gives a contemporary look to your granite countertop. It is a popular choice for modern kitchens and bathrooms. This edge profile has a straight 90-degree angle, and the top and bottom edges are sharp and clean. On the off chance that you are searching for a basic and rich edge, the straight edge profile is an incredible choice.
Beveled Edge Profile
The beveled edge profile has a 45-degree angle cut along the top edge of the countertop. It adds an unobtrusive enhancing contact to your ledge, and an extraordinary choice for those need an exemplary look with a cutting edge curve. The beveled edge profile can make your countertop appear thinner and lighter, and it is perfect for showcasing the beauty of your granite.
Bullnose Edge Profile
The bullnose edge profile is a classic and timeless edge that is often seen in traditional kitchens and bathrooms. It has a rounded edge that gives a soft and smooth appearance to your granite countertop. This edge profile is likewise simple to clean and keep up with, pursuing it a famous decision for families with youngsters.
Ogee Edge Profile
The ogee edge profile is a decorative and elegant edge that adds sophistication to your granite countertop. It has an S-shaped curve that gives a luxurious and ornate look to your countertop. This edge profile requires more upkeep than others because of its mind boggling plan, yet it is definitely worth the work to add a bit of greatness to your kitchen or restroom.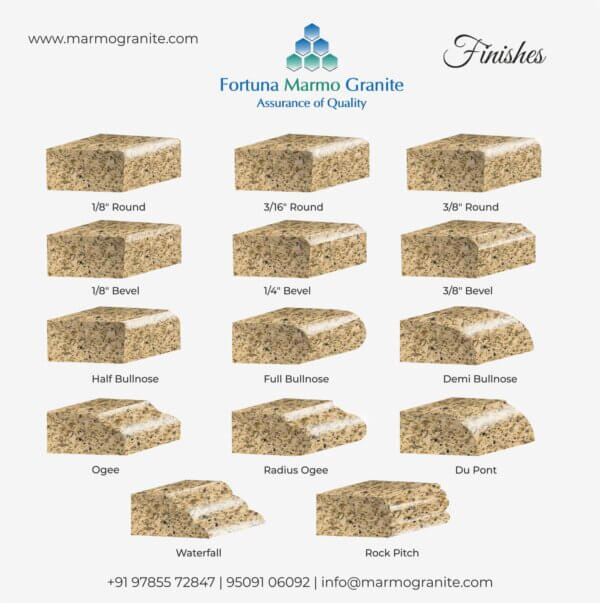 Waterfall Edge Profile
The waterfall edge profile is a modern and contemporary edge that is becoming increasingly popular in modern homes. It has a consistent stream from the highest point of the ledge down to the floor, making a smooth and refined look. This edge profile is perfect for those who want a bold and dramatic statement piece in their kitchen or bathroom.
Conclusion
At Fortuna Marmo Granite, we offer a wide range of edge profiles for your granite countertop, each with its own unique characteristics and advantages. We trust this guide has assisted you with picking the ideal edge profile that suits your requirements and supplements your style. Contact us today to learn more about our granite countertops and edge profiles, and let us help you create the kitchen or bathroom of your dreams.