Light Marble Flooring Ideas For Your Home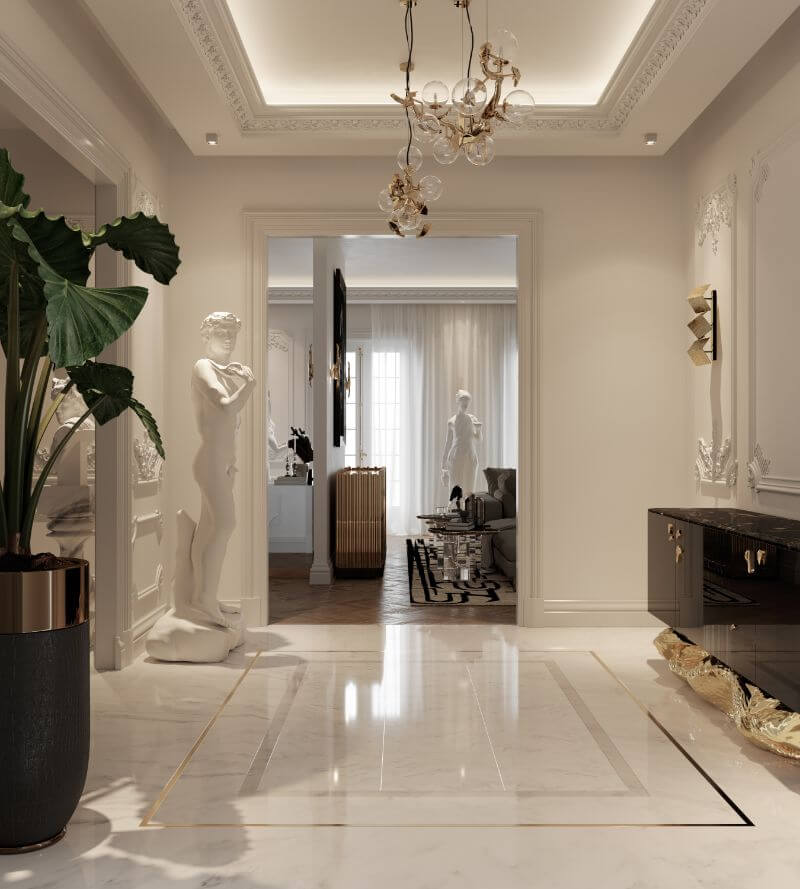 Marbles are extravagant material which can be used in many ways and for many things. It come in admirable colors, textures and patterns. Marbles are currently most fashionable material which are well known for constructing floors and countertops in kitchens, bathrooms, living room and bedrooms.
Marbles comes in various colors from dark to light but light marbles are more preferable by homeowners which create the spacious appearance in the room.
Light marbles provides a lots of options in designs and it will reflect the natural light to make a room look brighter. When you choose all-white marble across the space it will give you choices in weather you want larger or small stone but with intricately patterned stone.
Plain white marbles will certainly be more sophisticating and will add grace in the room but if you want different option but in lighter tone that there many options discussed below.
The charm of pietra grey marble will make your guests jaw-drop. Unlike other lighter marbles, it is easier to maintain. Marbles with grey-gold somber veins will add the depth to the floor. Dramatic grey-veins of the marble will construct the optical perception and make it look like it is growing under the floor and elongating.
With variety of patterns you can choose a white and black checkered marble, too, which will include stylish yet elegant look in your room. The benefit of this style is that it adds a contrast of marble coloring while keeping ironic noble look.
White marbles with pastel spray-like pattern will also give gorgeous appearance to your floor and at the same time add subtle sophistication in your house.
Striped or sheath marble tiles will create the aliveness effortlessly. The linear feature will create a magnificent pattern without sacrificing the lightness of marble or contemporary look of the marble. Further, it will render a lot of opportunity to add little color and character while keeping marble tasteful.
To make your floor look enchanting then use white marble with yellow and black checkerboard pattern, marbles could be smooth and textured.
However, the combination of brown and white color in marbles will also create harmonious look in your room. Brown color will create warmth and earthy atmosphere, these marbles comes in various color tone from lighter to dark, so there will be no problem if you want lighter marble for your house floor.
If you don't want white or brown marble for your lighter flooring then blue marble is the best option for you. This natural stone have dreamy light blues inherent to make the house look charming. Without abandoning the airiness and spaciousness which you are trying to achieve by selecting lighter marble option, here you can easily apply blue marble in your room.
If you want to make floors luxurious in appearance with royal look like castle or kingdom then the combination of white marble with gold will add richness and create openness. It will look like marble is shining in sunlight and give fresh look to the onlookers.
Conclusion:
Thanks to marvelous nature of natural stone which let them come is light and bright colors and striking intricate veins with wonderful texture and patterns which gives a lot of options for floor deigns. In whatever way you integrate them, it will always give a royal subtle aspect in your house.
Fortuna Marmo Granite providing Finished Countertops, Kitchentops & Iselands with customized Size. Our Edges Profile includes, Double Chamfer, Double Bullnose, Double Full Bullnose, Half Bullnose Chamfer, Chamfer, Single Bullnose and Quarter Round Cutting Edge Countertops. And these are available in High Quality & Smooth Finish.