Verde Guatemala Green marble is one of the primary green marble found in India. Almost all of the green marble quarries are located in the Indian state of Rajasthan. It is mainly used for flooring countertops and staircases. It is also known as Verde Guatemala. It is very cost-effective when compared with Indian granite. It is especially popular in Middle East countries such as Turkey, Egypt, Saudi Arabia, UAE, and so on. We will now discuss some of the popular green marble from India.
 The surface pattern seems like spider web of this marble that is why it is popular with the name of Spider Green Marble. Its background is dark green. There are many yellow and light green webs like patterns that spread all over the surface of the stone. It is a very soft material so it requires careful processing and due diligence. We have tie-ups with an exclusive quarry of this marble and can supply ample quantity with one quarry pattern.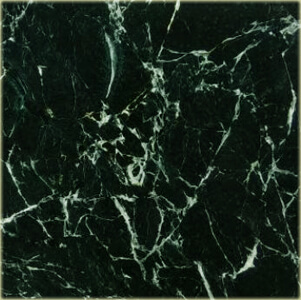 It has light to medium green color. There are brown white branches like patterns observed in this stone. These brown branches look like trees hence its name. It is also called Bidaser Marble in the local market. It can be paired with rainforest brown and rainforest gold to provide a stunning look to the surroundings. This stylish marble usually used in bathrooms wall cladding.
Another dark shade green marble from India. It is one of the most common and famous green marble. It has various medium green color veins and branches like patterns intersecting with each other.  It is very cheap as compared to the other marbles and Indian granite. Forest Green marble is quarried in the most popular city Udaipur, India. 
This marble is basically white green marble from India. There are light green waves on the surface of the stone. These waves are more in some area than the rest part of the stone. This marble is also very popular as Lady onyx or Indian Onyx.
Green marbles can be paired with white marbles to give a unique look to your kitchen or workplace. One of the advantages of green marble is its cost-effectiveness and consistency in color and pattern. Unlike granite, the marble is relatively soft so it can be also used for making statues and sculptures. Also, it is very popular for flooring in mosques and similar religious places. Green marble tiles are very popular in the Middle East market. Popular sizes are 30 cm X 30 cm, 60 cm X 60 cm, and 30 cm X 60 cm. These can be used in bathrooms or making garden paths or sideways. We can also process green marbles slabs in 2cm and 3 cm thickness.
Fortuna Marmo granite is the major manufacturer of all the green marbles from India. We can then provide them with different finishes such as polished, brushed, honed, etc according to the needs of our customers. We can also mix different granite such as New Imperial Red, Crystal yellow, Alaska white, Fantasy brown, and so on with the green marble in a single container. We can also provide large quantities of green marble at discounted prices,