Gold granite is one of many different colors found in India. As granite is primarily a constriction material one can choose from wide variety of different colors and shades according to his own preferences and requirement of the project. Gold granite is quite popular choice due its royal touch and elegance. There are many different kinds of gold granite found in the India which are distinct from each other and has their own charm and appeal. We will discuss few of the popular gold granite from India.
Imperial Gold– this granite is mainly found in the Madurai region of the state of Tamil Nadu. There are brown veins like patterns and small shapes can be seen in the yellow background of the stone. In addition to this it also small pink color areas spread all over the surface. High level of variation is observed in this stone.
2. Alaska Gold – Popular granite from India. It contains small black shapes and veins in the yellow background of the stone. It is soft material so fiber sheet needs to put behind the stone to give support.
3. Colonial gold – It also comes from Madurai region of the state of Tamil Nadu. There are tiny black dots spread all over the surface of the stone. Its color is light gold and bit white in shade. It can be paired all colors from Madurai such as Imperial white , Imperial Gold, Colonial white and so on.
4. Desert Gold – This granite is from North India. Its surface is dark yellowish in colors and there are number of black particles can be observed in the stone. This stone is also available in other color varieties such as Desert green and Desert brown.
5. Prada Gold – granite from South India. Its color is a combination of yellow, brown and pink. There are black brown lines which can be cross or horizontal in direction can be seen on the surface of the stone.
6. Ghibli Gold– This granite is also from South India. Its color shade is pinkish brown Waves like movement can be seen in this stone in addition to small black particles.
7. Vyara Gold – It is pink yellow granite from South India. It contains small pink brown browns and small sized black deposits in the surface of the stone.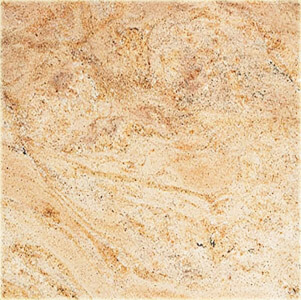 So Far we have discussed few of the notable Gold granite from India. Now we will discuss their application in the construction industry. Main use of granite includes flooring, staircases, kitchen countertops, and walls. While using gold granite for flooring one thing need to be keep in mind that most of the color granite has high level of variation and pattern consistency is not there. So if you are looking for uniformity then gold granite is certainly not a good choice. Though you can find color consistency and uniformity in few of gold granite such as Desert Gold and Alaska Gold.
Gold granite provides premium looking solution for flooring. Tiles of Imperial gold and Colonial gold are very popular choice for flooring at bathrooms and in hotels. As human eye is attracted towards the golden color it is again a beautiful option for producing Kitchen countertops and worktops. We, Fortuna Marmo Granite can provide high quality gold granite to our customers at discounted prices as we are both manufacturer and exporter of all above stone. We have our own work units in location near these stone quarries and directly process stone blocs into slabs, tiles and countertops. Because of such expertise and competitive advantage we can easily supply huge quantities according to our customer projects.
Summary
Author Rating





Brand Name
Product Name