Fusion Gold Granite is unique and elegant granite. The background of this hazy design is dark black with golden speckles and white speckling.
This Black Granite countertop is a real force to reckon with because to its dynamic pattern and rich colour palette. Ideal for people who want to bring right away drama to their homes! This premium granite worktop will instantly stand out in your kitchen or bathroom thanks to its deep black foundation and veined waves of contrasting white and orange tones. Granite is known for its hygienic qualities and Fusion Gold Granite is no exception. It has a textured appearance but a luxury smooth finish that is both heat and scratch resistant. With the right care, the Fusion Gold Granite countertop is guaranteed to stay bright and smooth for many years.
No matter what it is used for—kitchen countertop, bathroom vanity top, fireplace surround, or outdoor living area— this black granite adds personality. Any room in your home can easily become its main focus. This stone is not only stunning, but also incredibly strong.
On the dark background, the this black Granite with gold and ivory veins immediately catches the eye. The Indian Fusion Gold Granite adds a touch of refinement and sophistication. The polished granite's rich complementation of the smooth surface's brilliance makes the granite slab appear unique and appealing.
Given its beauty, toughness, and variety of additional advantages, this granite is undoubtedly one of the best natural stone options available.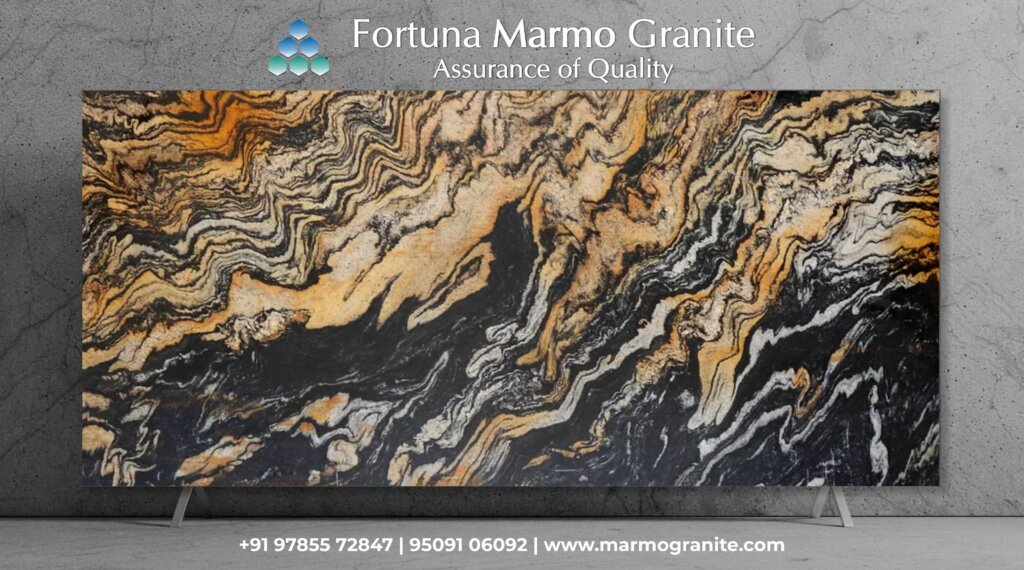 Trade Names
Fusion black Granite
Fusion Gold Granite
Availblity
Slabs, tiles, Countertops
Finishing
Polish, Flamed, Gangsaw cut only
Uses
Flooring, Countertops, Wall Tiles
Fusion Gold Granite Slabs
Granite Slabs are broadly categorized into four sizes – Jumbo Gangsaw Size, Countertop Size, Under Size and Below Under Size. This categorization is for worldwide markets. We can readily supply the following slab sizes
• Jumbo Gangsaw Size (310 cm x 190 cm & up) Thickness 2 cm to 10 cm
• Countertop Size ( 300 cm x 90 cm & up ) Thickness 2 cm to 8 cm
• Under Size ( 100 cm – 180 cm x 90 cm & up ) Thickness 2 cm to 3 cm
• Below Under Size ( 90 cm – 120 cm x 90 cm & up ) Thickness 2 cm to 3 cm
Fusion Gold Granite Tiles
---
Granite can also process as tiles in different sizes and thickness to meet the customer's specification. We can readily supply the following sizes and thickness

610 x 305 x 10 mm / 12 mm

305 x 305 x 10 mm / 12 mm

600 x 600 x 15 mm / 20 mm

600 x 300 x 15 mm / 20 mm

1200 x 600 x 15 mm / 20 mm
The natural stone has a high level of adaptability for extremely cold weather conditions and is free of chemicals. The Fusion Gold Granite is a popular natural stone because of its resistance to freezing temperatures, resistance to corrosion by citrus substances due to the granite's lack of calcium, low water absorption capacity, polished finish that lends an elegant appearance to any given space, and maintenance procedures that are ostensibly simple and affordable.
This granite can be the ideal option for you if you're seeking for a natural stone product that is darker in colour and really stands out. One of the best choices you've ever made for your home may be installing this stone in your area.
The purity of white is being swallowed by the ocean of black, and the golden rays are being carried away by it. Decorate your home with Fortuna Marmo Granite stone collections.
Fusion Gold Granite Pictures
---